Cosplay
Cosplay in general
There will be many people in costumes at Blavicon. Someone will put them on just for the heck of it, others will come to compete. The cosplay contest will have two rounds: one non-public online and the other one public at the con. This will help us make sure you will be able to feast your eyes on the very best of what the con brings you cosplay-wise on Saturday. On that day, that is, the best cosplay contest will take place! Special guests from abroad will be present for the entirety of the con – these are the cosplay jury.
We will appreciate it if you bring a medieval or The Witcher-inspired costume with any level of sophistication, because you'll help build the atmosphere of the entire con. However, never forget that the costume is not everything. A real cosplayer is also a theatrical actor and behaves the part even using his body language!
How to compete
It is necessary to register for the cosplay contest in advance, no later than 24th March 2019, 3 weeks before the con. By application we understand buying a ticket online for the entire con and filling up the registration form.
We require submitting the following materials for the contest:
name of the character you are cosplaying, including pictures of the model
information about the costume (material, creation procedures, own creation, etc.)
detailed pictures of the complete and finished costume (on your person)
cosplays which are approved by the jury to attend the con are required to send these materials and information about their performance
Incomplete costume or materials of insufficient quality may lead to elimination from the contest; however, if we do find an issue, we will let you know.
For the contest, it is necessary for the costume to be finished, complete, allow movement and could be displayed in all its beauty. Should you have any questions, please contact us at cosplay@blavicon.cz.
Special benefits for the contestants
Every contestant who moves on to the public round will have their own bed at Blavicon in the common room for cosplayers (just a mattress, bring your own sleeping bag). This room is in the building next to the inn. However, there is no bathroom (you need to use the inn; you can agree on using the shower in the main building with the organizers). Along the overnight accommodation, you'll have another room available which you can use as a dressing room. This place will be meant for cosplayers only and will be lockable. Some refreshment will also be served during the Saturday contest. Cosplayers are of course not obliged to use these benefits if they don't want to.
Rules and schedule
Cosplay contest schedule
The contest will have two rounds:
The first round will be online. All cosplayes will be judged by the jury according to submitted materials (thorough photo documentation of the cosplay including individual parts and reference pictures) which is to be submitted by 24th March 2019 with no extensions allowed.
By 29th March 2019, the jury will select 15-20 best cosplayers who move to the next round (the number is subject to change). These will have 2 weeks for potential tweaks and preparation of their sketch.
The contestants have to present their own sketch within 3 minutes. The sketch is an integral part of the evaluation, so it should be original, interesting and entertaining. The whole stage will be available to you, as well as microphones and background music of your own choice (to be provided by you in advance, not on site). You are limited only by your own imagination, but you need to have your sketch approved by the organizers by 7th March 2019 at the latest.
It is necessary for the selected contestants to register at the event on Friday 12th at 7 PM as cosplay contestants (no need to have the costume on you then). Should there be any problem with the time, you need to notify us about this. Cosplayers who fail to register will be eliminated from the contest.
The second round will have two parts:

The first part will be non-public in front of the jury on Saturday 13th at 10:00 AM. Each contestant will be assigned an exact time, so that they don't have to wait for when they are next in line. The jury will evaluate the cosplay at this time with some questions for the contestants.
The second part will take place on Saturday at 1:00 PM on the main stage in front of the jury and the audience.
After all cosplayers' performances, the jury will consult for 30 minutes which will be filled with another programme. After that, we will disclose the winners, who will accept prizes for the first, second and third places in the cosplay contest, the people's choice and the organizers' choice.
Cosplay contest rules
contestants must be 15 or older to attend; contestants under 18 years must have a signed consent from their parents or legal guardians
individuals or groups may apply (3 members tops); groups will be evaluated as a single contestant
completely store-bought costumes are not forbidden, but not welcome either; this fact will definitely influence the jury's assessment
winners from previous years (in any category) are forbidden to compete in the same costume
judges from previous years are forbidden to compete in the same costume there had been invited to judge in
all realistic weapons such as swords, daggers, etc. are FORBIDDEN to use OUTSIDE the performance
disgraceful costumes or those going against moral and ethical standards are not allowed; the organizer and the jury reserve the right to eliminate such a costume from the contest
costumes or any characters exclusively from the world of The Witcher are allowed, be it from the book saga, TV series or the videogame adaptation – it is necessary to submit a picture, an image or a screenshot of said character
contestants must be able to move freely in the costume and to enter the stage by themselves
during the second round of the contest, contestants may perform any performance including their choreography, background music, monologue or any other element
for the purpose of the contest, the costume is required to be complete – it is not allowed to put additional parts of the costume or fix broken parts in front of the audience
each contestants is allowed 3 minutes for their performance
by attending, all contestants give the organizer permission to take pictures of them during the entire con
using liquids, sparkles or fire is not allowed; however, it is possible to make an exception after consulting in person
Contestants can use anyone for their sketch, apart from other contestants (for example: contesting Triss acts a sketch with non-contesting Geralt and Yen)
Jury's criteria
The jury will evaluate the contestants based on these criteria:
Own creation – handcrafted parts of the costume, creation procedures, know-how (0-4 points)
Quality – materials used, costume durability, realistic feel (0-6 points)
Detail – reference comparison, level of detail, missing parts, general condition (0-6 points)
Overall appearance – general impression, functionality, execution, etc. (0-6 points)
Roleplay/sketch – performance and acting the part, sketch (originality, execution, etc.) (0-10 points)
The jury
Once again, the jury will be formed by five cosplayers from abroad. You can be looking forward to famous faces from the Witcher community from around the globe.
Hello friends! My name is Fenix Fatalist, and I'm excited to meet you all on Blacivon! My relationship with the Witcher universe started when I was 20 years old and I read the first books. After that, the videogames came. And after that – cosplay and even a short fan movie! The Witcher universe has always been a huge inspiration for me, and I'll be glad to meet other fans here, at Blavicon. Love you guys!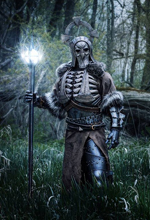 Hi everyone, I'm Johannes, a 26 year-old cosplayer from Germany. I've discovered cosplay as a hobby a few years ago and have been hooked on it ever since (with varying degrees of activity, admittedly :)). I've been building stuff from different genres, from fantasy to sci-fi. Most of it has been armours and props; however, there has been the occasional attempt at sewing something.
Since a little bit more than two years now, the Witcher community got a really big and important part of it all, though, so its a huge honour for me to be able to attend Blavicon as a jury member! I'm really looking forward to seeing all of you awesome folks there and have a chat about the Witcher, crafting or whatever else is important in the world!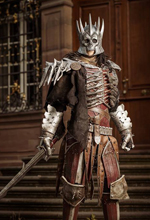 Hello there! My name is Kevin Leab Thong aka "Tarrer's costumes and props". I work as a community manager FRANCE at CD PROJEKT RED and I am also a cosplayer! I've already been invited last year to be a part of the jury and it is a huge honour to do it again in 2019! Last time, the airport lost my costume in the process so I wasn't able to wear anything for Blavicon… but this time I am gonna do everything to bring Eredin! I am looking forward to enjoying this moment with you guys! See you soon at Blavicon!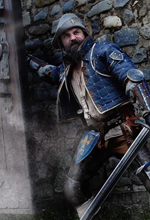 Hi, I am Mimin, an Austrian cosplayer, LARPer and Reenacter. I started making my first costumes in 2006 and just recently joined the cosplay community with my Witcher costumes (gender-bent Ves, bearded Vernon Roche and an OC called Borsuk with which I surprisingly won last year's Cosplay Contest at Blavicon 2018). When creating costumes, I want them to be "practical", so I use real leather, metal, wool and other natural materials as much as possible. It will also be my first time as a member of a costume jury, so please be lenient with me.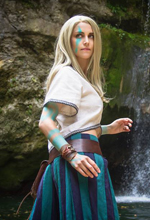 Hello everyone, I'm Syf and I make costumes. I'm absolutely in love with the Witcher universe: so far, I've made about 5 Witcher costumes and I plan to make many more in the future. I hope you guys are all excited about Blavicon (as you should be)! And that you're ready for a badass costume contest! We are waiting to meet you there!